Research in the Hydrogeology Group at UMass Lowell is centered on groundwater-surface water and chemical exchanges along the land-sea margin. We integrate physical sciences (hydrology, coastal ocean processes, climate science) with biogeochemistry to understand the distribution, behavior, and quality of groundwater beneath the coastline. We are currently exploring interactions between groundwater and waves, tides, currents, and sea level rise using field experiments, numerical models, and quantitative synthesis of large datasets.
Undergraduate and graduate students interested in coastal hydrogeology are encouraged to contact james_heiss@uml.edu for available research opportunities. Graduate studies are available through MS and PhD programs in the Department of Environmental, Earth, and Atmospheric Sciences and the University of Massachusetts Intercampus Marine Science Program.
---
News
March 2021 See our recently published paper in Water on measurement of flow and biogeochemistry in beach aquifers.
November 2020 See our recently published paper in Water Resources Research on groundwater flow and moisture dynamics in heterogeneous swash zone sediments.
October 2020 Graduate student Clara Cogswell presented her poster on the role of temperature on biogeochemical processes in beach aquifers at GSA 2020 Connects Online!
September 2020 See our recently published paper in Water Resources Resedarch on physical controls on biogeochemical processing in intertidal aquifers.
August 2020 See our recently published paper in the Journal of Contaminant Hydrology investigating beach wrack and whale burial leachate fluxes to the subtidal zone.
June 2020 See our recently published paper in Hydrological Processes on groundwater-surface water exchange and moisture dynamics across beaches.
May 2020 See our recently published paper in Environmental Research Letters on the effects of geologic heterogeneity on flow dynamics and nitrogen cycling in beach aquifers.
March 2020 The Hydrogeology Group was in the field jetting wells to 9 meters at the Waquoit Bay National Estuarine Research Reserve.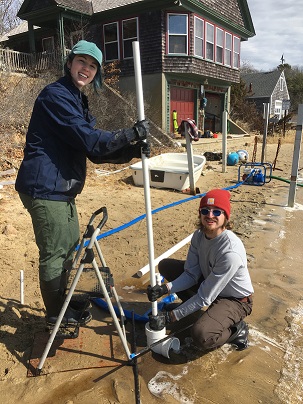 September 2019 Bryce Mase and Clara Cogswell joined the Hydro Group. Welcome!
August 2019 Joined other academics and agency personnel at the Nearshore Extreme Event Reconnaissance (NEER) Development conference at the Virginia Tech Executive Briefing Center in Arlington, Virginia.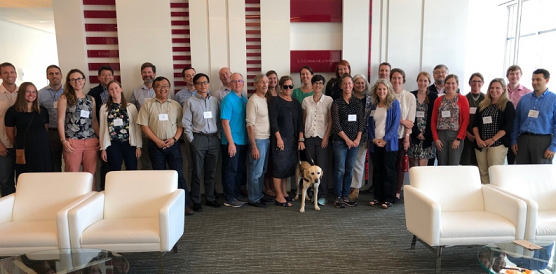 June 2019 We were in the field at the Waquoit Bay National Estuarine Research Reserve sampling porewater in the intertidal zone.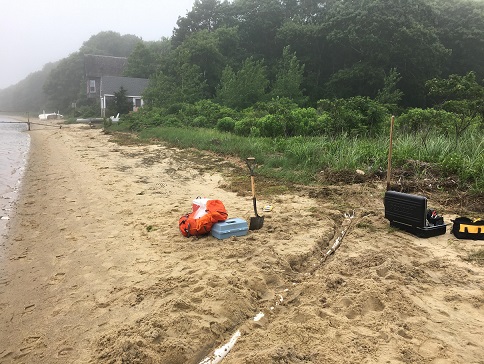 June 2019 We joined other researchers and leadership at UMass Lowell on a joint UMass Lowell-Portugal Workshop on Terceira Island in the Azores to promote and launch research collaboratives.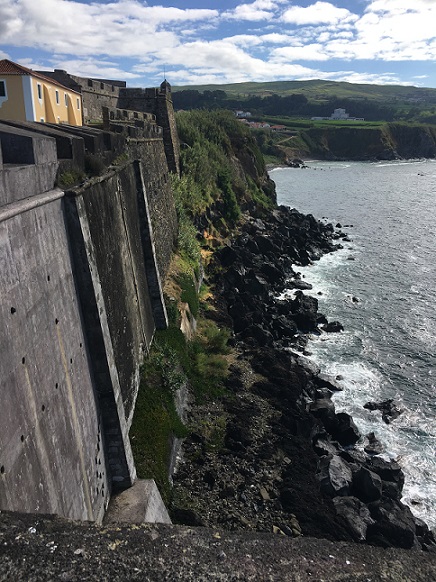 May 2019 The UMass Lowell Climate Change Initiative briefs Massachusetts legislators on climate change and policy.
December 2018 We presented at the AGU 2018 Fall Meeting in Washington, DC on the role of geologic heterogeneity on generating denitrification hotspots in beach aquifers.